The Grand Canyon, one of the Seven Wonders of the World exists among lush desert landscapes, crystal-clear waters and breathtaking mountain peaks.
Grand Canyon National Park is the United States' 15th oldest national park and is located in northwest Arizona. Within the park lies the Grand Canyon, a gorge of the Colorado River, considered to be one of the Wonders of the World.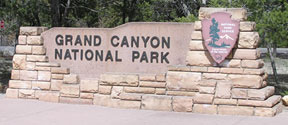 The park covers 1,217,403 acres of unincorporated area in Coconino and Mohave counties. The Grand Canyon divides Mohave county into two parts with an impassable gorge which no road crosses.
The Grand Canyon is more than a great chasm carved over millennia through the rocks of the Colorado Plateau. It is more than an awe-inspiring view. It is more than a pleasuring ground for those who explore the roads, hike the trails, or float the currents of the turbulent Colorado River.
This canyon is a gift that transcends what we experience. Its beauty and size humble us. Its timelessness provokes a comparison to our short existence. In its vast spaces we may find solace from our hectic lives. The Grand Canyon we visit today is a gift from past generations.